Anna Vrsnik
Praha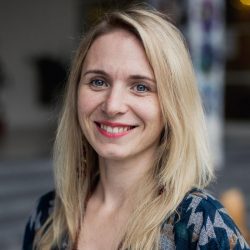 "Birth is a key event in our lives and it gives us unique opportunity to completely change our lives."
I have been working as a ČAD certified doula for several years and I accompany women during labour in Prague and the Central Bohemian Region. My clients have various wishes and needs, they give birth in hospitals or at home, naturally, with epidural or by c-section. When accompanying women, I very often use the hypnobirthing techniques, because I know how much they help women get through childbirth with more peace and calm. In my experience, women with a good birthing experience get back in shape much faster, have a pleasant postpartum and, what is important – caring for their baby is much easier for them.
I pass on my own experience with childbirth and information on using the hypnobirthing techniques to pregnant women and their partners at group and individual courses by Jemne Zrozene. I am grateful for every beautiful childbirth story and I wish women and their babies a gentle and pleasant birth.
I am a mother of one son (2008) and I live in Prague.
My services:
Consultations during pregnancy
The Complete Antenatal Preparation with Hypnobirthing course – both group and private ones
Accompaniment throughout labour
Caring for women after C-section
Support in the immediate postpartum period
Placenta processing
Caring for women after perinatal loss and miscarriage
Consultations for women
I provide all my services in Czech or English.
Doula education:
Placenta processing – NAZEP
Basics of craniosacral work for laymen – Markéta Bezůšková
Hypnobirthing instructor – Jemné zrození
Spiritual accompaniment – Center for Sacred Studies
Certified doula – Česká asociace dul
Counselling for the bereaved – Naděžda Špaténková
Caring for parents after perinatal loss – Prázdná kolébka
Using a rebozo – Michaela Kalusová
Course for doulas – Česká asociace dul
Instructor of conscious antenatal preparation and exercise with children – A centrum
A different year – A centrum
You can find more about me and my services at www.annavrsnik.cz.
Nearest course dates of the lecturer